So I thought I'd give a cheap bagged mix another go and see if my progress is from general care improvement or the mix I've been working on. Pinched a 25L bag of Scott's premium seed/cutting mix from me neighbour to put it to the test.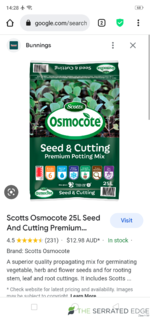 The mix is very uniform and fine. A mix of Coco, composted forest products, propagation sand and gypsum with added calcium, phosphorus and water crystals. By far the most uniform mix I have used, and I'm not sure if it's going to lead to any compacting or hydrophobia in the future.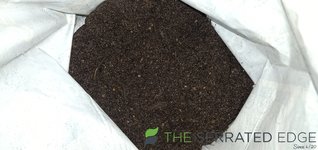 Have three black lime reserve/super lemon dragon freebies in the mix now at day 18 and they seem to be going well (4.5L pots ATM with 20% perlite and 10% vermiculite).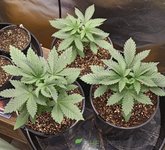 A quick slurry test shows medium pH around 6.2 which is pretty good.
Has a pretty much identical consistency to the yard soil/Coco and compost mix I've been conjuring up, so watering frequency seems the same.
Will be going into 5 gallon square pots in a week or two. Will be interesting to see how it fares over time. Will probably just feed throw some powerfeed purple when the time comes.
Overall a nice product from what I can see, and definitely to my surprise.
Last edited: